TimberKing Owners Speak
For the most up-to-date TimberKing Owner Stories visit us on Facebook 
---
First-Time Sawmill Owner
My TimberKing 2000 is the first saw I've owned. My goal is self-sufficiency; doing the best I can to be able to live and survive off the land I have.
For me, buying my first sawmill was not a leap of faith. I really wasn't worried. It was more like taking an opportunity. I know what my skills are and that I could work it out. I knew that if I do this right, it'll all work out. I looked around a lot, visited the TimberKing site, and watched the videos. All that helped me decide on TimberKing.
I chose the TimberKing 2000 because that's the industrial standard…It's very user friendly and has a lot of great features like full hydraulics, log loaders, a digital readout for the setworks. That computer makes everything easily adjustable. Yes, you can adjust the cutting manually but the computer setworks are more precise.
The whole buying process was simple. We talked awhile, they had all the components I needed, told me what was in stock, and so on. By far, the sales guys knew their stuff.
A TimberKing tech drove it from the factory in Kansas City to where I am in Virginia. The truck arrived and the tech helped me get it set up and gave me good information, tips, and pointers. He offered to stay and help me as long as I wanted, even to stay for days if I needed it. But I only kept him a few hours. He helped me set it up, level it, showed me how it works, how to operate it.
Dennis Miller, Gloucester VA

---
I started looking at mills while my wife was pregnant with our first son. This was a big decision with a baby on the way! We decided to go with TimberKing because of its heavy construction. First of all, its heavy construction. Second is the quality of the customer service. I drove to Kansas City and watched the TimberKing staff demonstrate the mill. That was a great experience. I chose the 2000 because it has full hydraulics.
They make the mills right in the USA, right in Kansas City. So if I need repair or service parts I know exactly who to go to — the same people who sold me the mill. Everybody we dealt with at TimberKing was just great. I'm proud to own a TimberKing and thankful to be part of TimberKing's family.
Adam Scardamalia,
Spanish Fort AL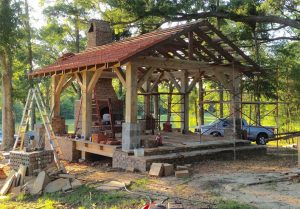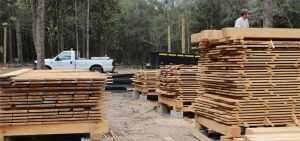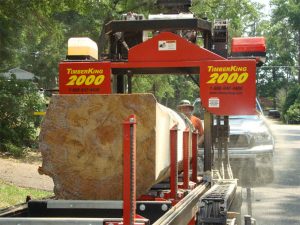 ---
I always wanted to live the country lifestyle like my grandparents did. I sold everything I owned — house, furniture, vehicles. I turned it all into cash and paid off some debt. I left my driveway with just my dually pickup, two dogs, and a camper. I moved to Texas where my folks have a ranch.
I had to have a different way to live and earn a living. I've built things of wood all my life and I've always found it deeply rewarding. It's not about the money — it's something deeper. Maybe it's the creativity. Or seeing the grain inside a tree when you open it up. I've worked hard all my life with heavy equipment, and done a lot of building, and I knew I could do this.
 The more I researched, the more I realized I could do with a sawmill.
I looked at sawmills for two years. I watched guys sawing lumber and I searched online. I started looking at chainsaw mills but you have to physically lift logs to load them….I talked to other sawmill owners and eventually found TimberKing.
TimberKing's design is important to me because I know I've got something that is true and will last. I've sawn 40" diameter logs on my TimberKing 1600! Some up to 42" and 44" if I chainsawed off a bit of width first. I've definitely taken my TimberKing to its limits!
I called TimberKing 10 times or more before I bought. I talked with Matt and did my research. I talked with a lot of sawyers. I'd ask them, 'Why'd you get into sawing? Why'd buy this mill and not that one?' I got a real education.
I bought the TimberKing 1600 because it was the only one I could afford at the time. I asked TimberKing to put computer setworks on it and they did. That computer is a great investment. I've thought about trading up to the TimberKing 2000 because it has more hydraulics. I'd love to have a 2000 but I know my 1600 inside and out and I'm happy with it.
Billy Jay Dove
Austin AR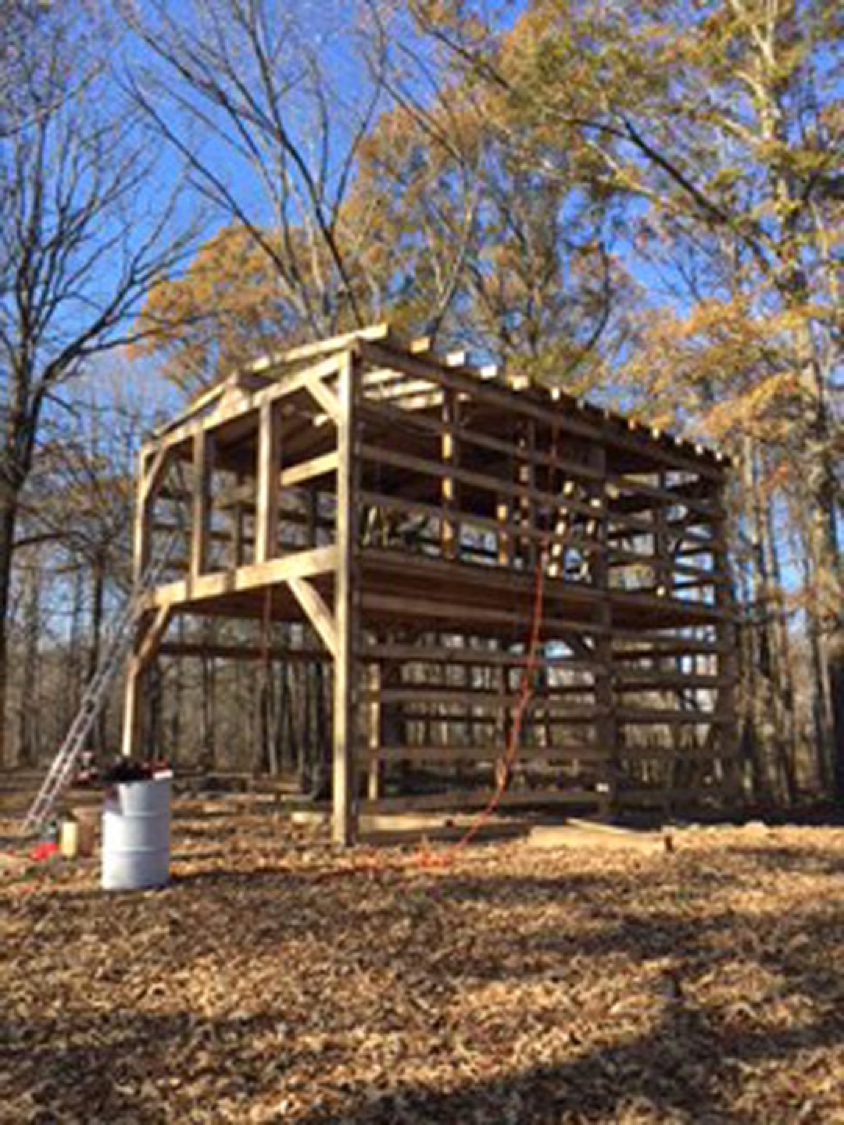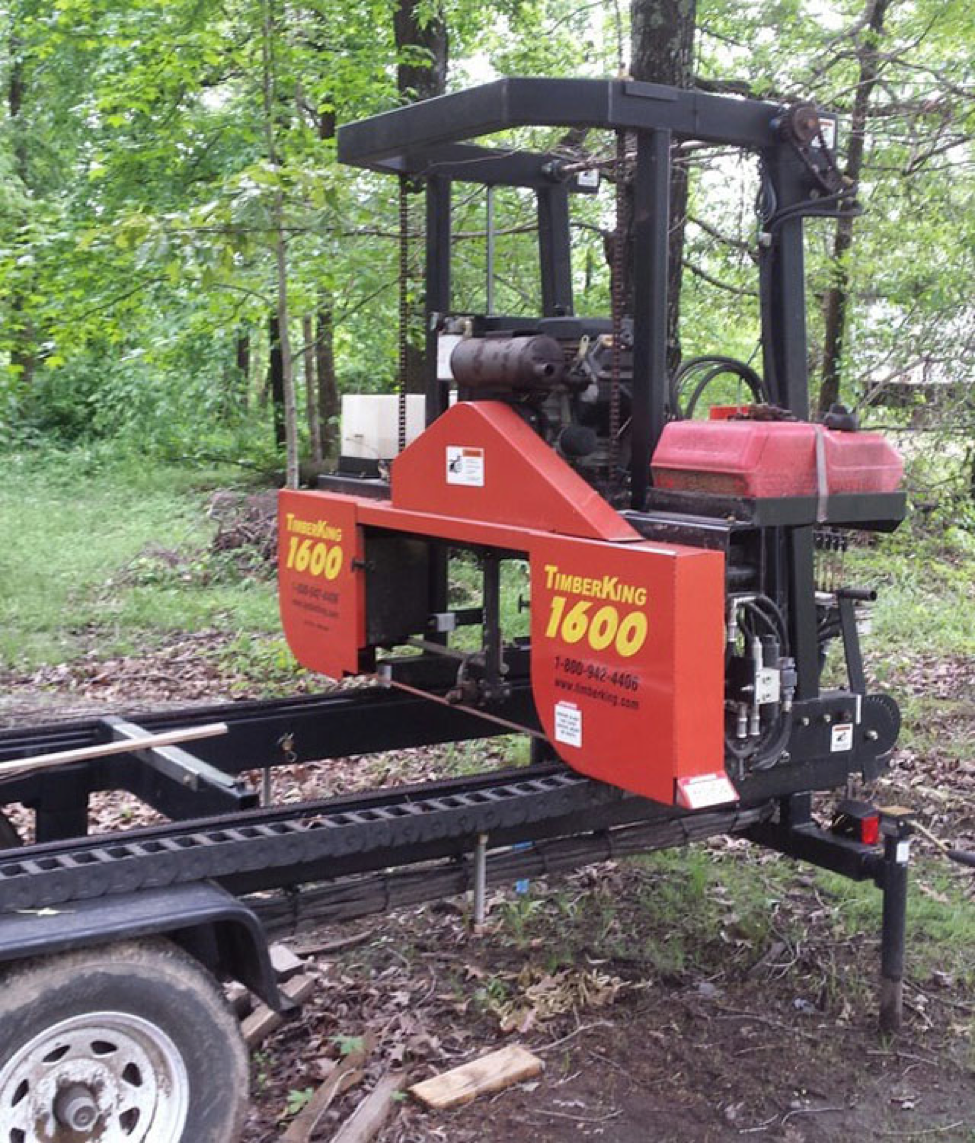 ---
New 2000 Owner "Very Pleased" and Getting Busy!
We were so pleased to receive this unsolicited email from Ken Bourquin of Ohio:
Dear TimberKing,
I am very pleased with my new TimberKing 2000 that I purchased. I bought the 2000 to build my kids a timber frame barn and to put a timber frame addition on my house. Everything is working extremely well and I have already began cutting the logs for my barn. I built a 18′ x 24′ timber frame pavilion for my Boss so I could learn the machine and the timber framing process before tackling my larger projects. I am very happy with the ease of using this machine.
---
His TimberKing's 20 Years Old, 4500 Hours, Runs Like a Top!
"I own an older TimberKing sawmill. What really impresses me about this mill is it how it lasts and lasts. When it was 20 years old, with 4,500 hours on it, I went through and reworked the hydraulics and the engine. That gave me a deep understanding of the mill so I can maintain it myself without having to take it somewhere.
I'm extremely happy with my TimberKing. And their customer service and tech people have been very responsive. I can call them any time and they spend as much time as needed to help me."
Tom Berryhill
Dardanelle AR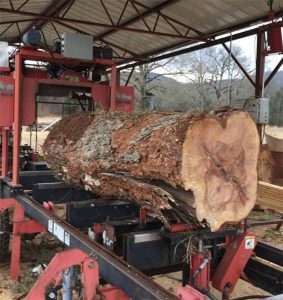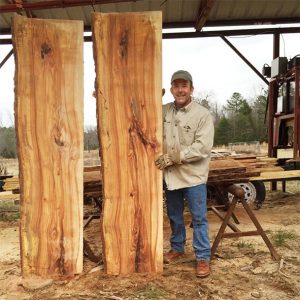 ---
Carpenter with Passion for Timber Framing
I'm a carpenter but my passion is timber framing. I still build stick-built houses but my goal is to make timber framing my main gig. I bought my TimberKing 2000 in order to supply my business with timber framing material. I shoot for bigger sized stuff — 6 x 6, 6x 8, 8 x 8 — so I'm not the guy sawing 2 x 4's or 2 x 6's unless it's for strapping on a roof. We cut trees or have logs hauled in, depending on the customer.
TimberKing works hard to make sure their customers are happy. Your tech guys have given me incredibly good service and have been unbelievably helpful. Service is 10 out of 10. ….Whatever problems I've had, we've worked through them with TimberKing's help. I've come to appreciate this sawmill. It cuts quickly and efficiently and it's a heck of a lot of fun to run.
Daniel Iseli-Otto,
Alberta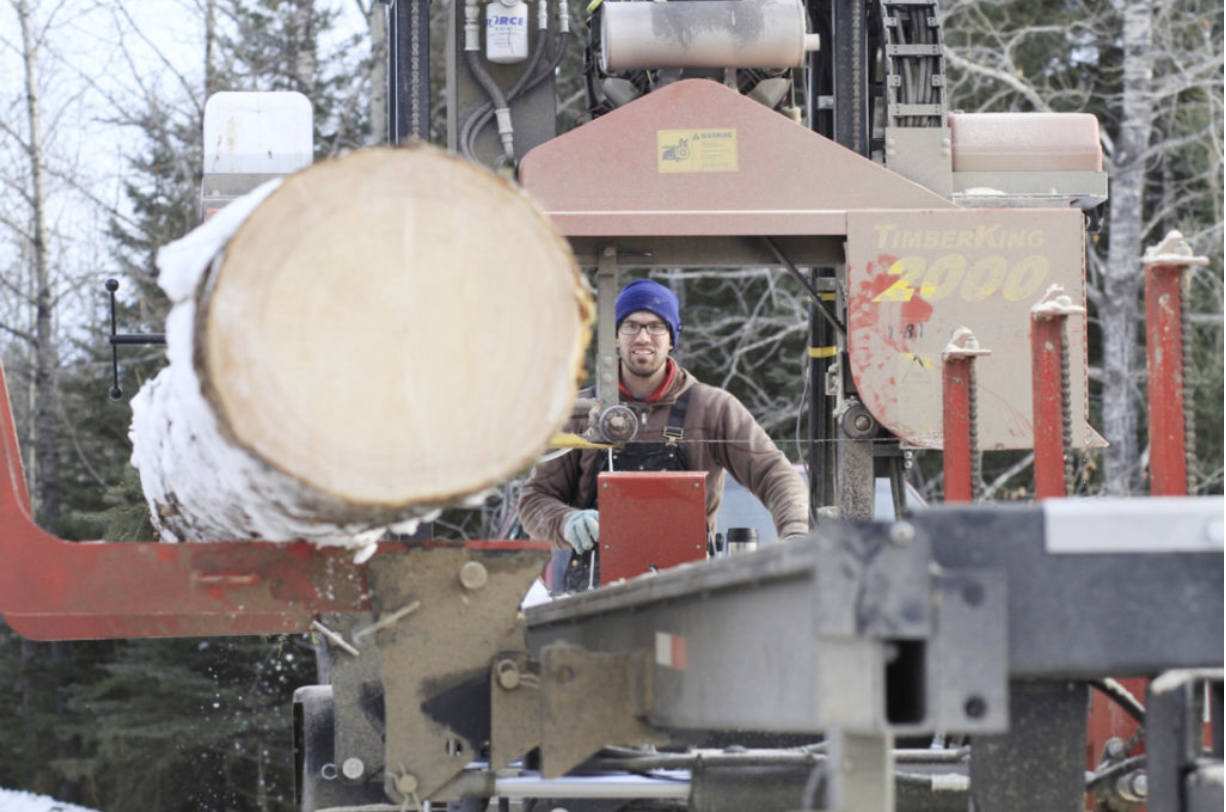 ---
81 Year-Old TK Owner Cuts 8,000 Board Feet a Day!
We were so pleased to receive this unsolicited letter from Hilton Cox of North Carolina.:
Dear TimberKing:
I am writing to give TimberKing a praise report on my 2200 Sawmill. I have been an operator and owner in the sawmill business for over 25 yrs. My first mill was a circle saw M-14 Foley-Belsaw. I have been a long time customer of TimberKing…
I am writing to you regarding the 2200 mill to say I am very satisfied with the neatness, quality and placement of the dials and gauges and instruments & engineering. I especially like the way you can swing the operator station so you can see your cant from either side…
I am 81 yrs old and can cut 8,000 board feet a day with just my equipment and one man. I like the fact that it is fully hydraulic.
I had a [well-known competitor's mill] for 11 years. I had to work on fixing something on it every day.
I just wanted to write to you & let you know how satisfied & thrilled I am to work & own such a fine machine as my TimberKing 2200 mill.
Thanking you,
Hilton Cox, Sr.
North Carolina
---
It's my wife's fault I bought a TimberKing Sawmill!
I went online and compared mills and decided on TimberKing. I started watching their videos and I liked what I saw. I never saw a TimberKing mill in person, just online and that was enough for me. It has features other mills don't. Two main features attracted me: the four-post head, and the stationary command post. I liked that I can stand in one place and operate everything without having to walk up and down the log.
Originally I was looking at a bigger TimberKing but I wanted an edger, too, so I dropped back to the 1600 and got my edger at same time. That was in '05 and I ran it for 10 years. Then we had a fire and everything burned to the ground but I wasn't done building! I called TimberKing and bought another 1600. This new one is upgraded from the older 1600 I had and has the features I wanted in a bigger mill. It has everything I want including the ability to take up to a 20-foot log.
Lynn Bellamy,
Laona WI
---
TK Ultra Max Blades Aren't Designed to Cut Metal but…
We were so pleased to receive this unsolicited email from TK 2000 Owner John Agnew of Gum Spring, VA:
"One of your TimberKing UltraMax blades cut through a bolt not once, but twice. Although the blade lost some serious tooth height, it didn't break. Blade cut through the eye of the bolt, thereby cutting through the same bolt twice. The bolt was in a 36″ sycamore log. After we cut out the offending part with a chainsaw, we made some beautiful boards. Thanks for the blades, and thanks for making a great machine!"
Note how wide the cuts were that John was making — you've got to have a big TK-sized cut throat to make cuts like that!
---
Kind Words from Arkansas 1220 Owner Doug Hyde
We were so pleased to receive this unsolicited email from Doug Hyde of Winslow, AR.:
My 1220 is the best mill in the world to me. I just love it I have sawed around 10 thousand board feet with no trouble what so ever thank you.
---
Alabama
TimberKing
Owner Jerry Stanley Strikes Again…
If you look down a ways you'll see pictures of Jerry using his 2000 mill to cut some big logs. Well even the 2000 couldn't satisfy Jerry, so this summer he traded up to a 2200! And as you can see below he's taking advantage of every bit of the 2200's capacity and power!
---
TimberKing Owner's Business Grows through our Sawmills
Thanks for providing such excellent equipment. It has been integral to building our business since we first bought a 1400 in the fall of 2013. The 1400 was a really good mill but I started cutting bigger, 24" diameter logs so I got a TimberKing 2000 last year. I had a great time with this mill on outside construction projects, cutting beams, board and batten siding, and more. I sold everything I cut.
But I needed to saw logs longer than the 2000 handled so I traded up to the TimberKing 2200. And I got a lot of equipment to support production. These days, I'm clearing woods into pasture. I saw the logs and turn the tops into firewood. I set up a production center in a corner of the pasture. … One thing leads to another! I was hesitant to get all this going but as you grow your business, you want to be as productive as possible.
Sawing with the TimberKing is the fast part. You have to figure out how to get the logs to the mill faster and how to make your operation bigger and better. What's great about the TimberKing is it doesn't take long to turn logs into lumber. Three hours of sawing can give you enough material to keep you busy for two days of building.
Jon Heltzel,
Hood River, OR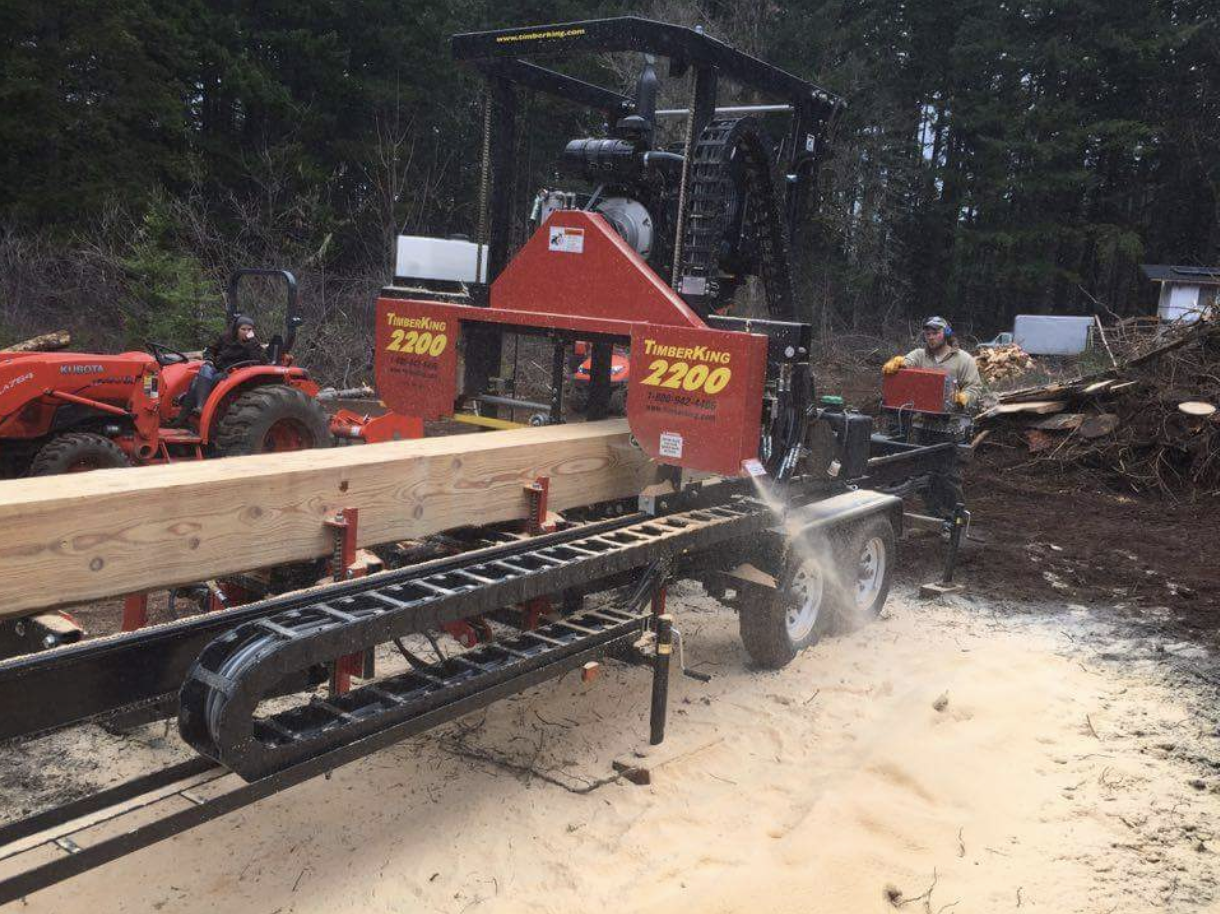 ---
Virginia
TimberKing
2000 Owner Cuts Huge Walnut Log!
We were very pleased to receive this nice email from Mark Wood of Virginia about his TimberKing 2000:
Dear TimberKing:
Here are some pictures of the Appalachian Black Walnut I have been sawing. The logs make some beautiful lumber. I had no problems sawing the big log in the picture, it measured 34 inches on the big end and 28 on the small end. From beginning to end my mill sawed perfect, square, sharp edges.
Mark Wood, Virginia
---
Louisiana
TimberKing
1220 Owner is Thrilled with His Mill and TK's Staff!
We were very pleased to get this email last week from new 1220 owner Harrell Alford of Kentwood, LA. Harrell's owned about every mill out there that you can own and we think it's fair to say he's thrilled with his 1220:
Dear TimberKing:
I have had mills of all sorts since the mid sixties and now that I am older and somewhat slower, I decided too give Timberking a try and I found out that even though I haven't had my mill but about three weeks now the people and company have been great. As you can see by the picture I have been cutting some big poplar boards for a custumer too wall up the inside of a new room. The mill works great for me and my dog Bingo as you can see. Thanks for a good honest company.
---
Georgia
TimberKing
1220 Owner Makes Mill Pay for Itself!
TimberKing 1220 owner Arney Herrin Jr. has done a lot with his mill including building a large addition to his shop, a shelter for his mill and two amazing cradles for his grandkids! Top photo shows his shop addition and the shelter he built, as well as his mill! Bottom photo shows amazing cradle he made for his granddaughter from wood he sawed on his 1220!
---
South Carolina
TimberKing
2000 Owner Cuts Huge Southern Yellow Pine Logs
Laverne Ard of South Carolina has been cutting Railroad Ties from HUGE SYP Logs. This log yielded two ties 15″ x 8″!
---
Alabama
TimberKing
2000 Owner Cuts Log Home Pattern from Huge Logs
Jerry Stanley of Alabama used to use a competitor's mill. He's loving that huge TimberKing 2000 cut throat as he tackles these massive Alabama logs!
---
Virginia
TimberKing
2000 Owner Cuts 38″ Log "No Problem"
We were very pleased to receive this nice email from Mark Wood of Virginia about his TimberKing 2000:
Dear TimberKing:
This log measured 32″ on the small end and averaged 38″ on the large end. Handled it no problem. I normally don't get logs this big and I admit I was a little nervous when I started to saw this log. But I was gentle and took my time and had no problems.
Mark Wood, Virginia
---
Idaho TK Owner Cuts Big Rocky Mountain Timbers
This is just one of the huge logs Floyd Thompson of Idaho has sawn with his TimberKing B-20. He's rightly proud of what he's done with the mill, including cutting the wood for raised panel doors and cabinets!
---
TK Owner Makes and Sells Alligator Juniper Furniture
TK Owner JD Roe writes:
We just sold this queen size platform bed out of custom sawed Juniper lumber on our own mill for $695. And made these two coffee tables at the same time because we'd sold all the others from $169 to $279 each depending on size. Every piece of juniper is hand finished with teak oil (about 20 coats). Marge is the one with patience for the finish sanding and oiling. We are now taking orders for custom one of a kind furniture while the Alligator Juniper lasts. Of course we're also raising and selling turkeys, ducks, chickens & pheasants. Just call JD the Bird Whisperer. He spends hours talking to his birds. The turkeys follow him around like dogs and come to the sliding glass door every morning looking for treats and leaving BIG poops on the porch. The garden is fenced to keep out the birds and seeds are starting to come up. It's in the high 80's here every day. We had one spitting thunder and lightning day but no monsoon yet. Hope you are all enjoying the summer.
JD & Marge
---
Kind Words from Proud
TimberKing
1220 Owner in West Virginia!
We were very pleased a couple of weeks back to receive this nice email from Wyatt Reed of West Virginia:
Dear TimberKing:
I would like to take this time to tell you how pleased we are with the TimberKing 1220 mill, the planer/molder, and the other accessories we have purchased. We are still doing a lot of learning but have made some beautiful oak cabinets for my brothers house. We done everything from the tree to hanging them on the wall ourself. Its a great feeling of satisfaction. The mill is great. Easy to set up and saws great… We learned early on to keep a sharp blade on the mill to get the best lumber. In fact something we noticed that we kinda guage by is the roller that is behind the blade. When we start to see that roller turning we change to a sharp blade. I like to push the mill when possible because it gives me a feel for what is going on. The molder/planer makes some beautiful molding. The tooth setter was easy to set up and to use. Two thumbs up on it as well…All in all we are very satisfied and you have life long customers here…Sorry to be so long winded but I have a lot of pride in what we are doing and accomplished.
Wyatt Reed, Princeton, WV
---
A Logger in Southern California?
Yep and he owns a TimberKing 1220 mill and a Kenworth logging truck. What can we say? Cam Berloger has good taste in equipment!
---
TimberKing
Owner Builds Incredible Barn!
TK B-20 Owner Jerry Huffman has built a couple of amazing buildings. He was kind enough to share his photos with us! Click HERE to see more!
---
B-20 Tackles Monster Log
Thought you might enjoy this picture of me and my TimberKing sawmill tackling a HUGE poplar log. I had several of these logs off of a neighbor's farm and I cut them all on my mill. I cut all the parts for this pole building out of these logs. The building is 95 feet long by 58 feet wide. The mill works Very Good. All lumber is very accurate and smooth to work. The best mill I have ever used.
Fred Young, MO
---
"Smooth Sailing" with
TimberKing
Just wanted to drop a line and say hello. I picked up that 1220…last July. The mill is working fine and it's been smooth sailing. I am now mowing through some beautiful red oak. Those Ultra blades are nice. Thanks for your help and it was sure nice meeting you and your crew. You guys did a fine job!
Erik Radke, MN
---
1600
Bandmill
"Enriches" Life
I want to thank you all for enriching my life with the 1600 bandmill…Our own President Carter will be hunting out of a goose blind built from lumber cut from our 1600. I also cut lumber for the lodge that he will stay over in during his hunt…I have also made parts & cut lumber for one of the last skip jacks that harvest oysters on the Chesapeake Bay…I want to thank you for [helping me] get a good start in this life. Thank you all very much.
Mark F. Robinson, MD
---
"Truest Lumber I've Ever Seen"
My TimberKing saws the truest lumber I've ever seen come off a mill.
Al Keskimaki, MI
---
Praise from Leading Trade Publication
Looking at the TimberKing 1600, it's easy to forget that this is a middle-of-the-line mill – the heavy construction and hydraulics give it the appearance and many of the functions of a full-sized production mill…the 25-horsepower motor provides plenty of power for cutting and hydraulics, and all controls operate smoothly and consistently.
Dave Boyt
Sawmill & Woodlot Magazine
---
"Keep up the good old American hard work."
I am so totally satisfied with my mill…I did a lot of research before buying my mill and decided on the TimberKing… mainly because I felt it was more heavily made…than any of the others. I know it weighs more than the others I considered. I also chose TimberKing because [my sales rep] was professional, courteous, willing to listen and answer my questions, no matter how long it took…You have a great product and a great company. Keep up the good old American hard work.
Curtis Seebeck, TX
---
Proud to own the BEST mill made
Your mills are truly a first-class product. I drove over 1000 miles to pick up my TimberKing sawmill and Talon edger and am completely satisfied…I am proud to own the BEST portable saw mill made. Once again, thanks and tell the guys and gals building your mills they are the BEST!
Phil Abbett, IN
---
Aerospace Engineer Prefers 4-Post Design
I help design and build spacecraft for Lockheed Martin for a living. From an engineering standpoint, the 4 post head [is a] clear winner over the competitive design.
Jeffery Sincell, NJ
---
Twice the Mill for Half the Money
I just received my new TimberKing portable sawmill. This is the best mill ever!!! I have owned and operated other mills…The TimberKing portable mill is twice the mill…for just a little over half the money.
Thoroughly impressed,
Jeff Bogie, VT
---
Pays for Itself 20 Times Over
We work our TimberKing six days a week and cut around 200,000 board feet last year. The mill has paid for itself about twenty times over.
Johnny Sharp, TX
---
Thanks for a Great Machine!
Thanks for building a great machine! Although I'm new to sawing, the lumber I cut on my 1600 comes out straight and true with virtually no inconsistencies in thickness or width. The added hydraulics is a life saver!
Kevin Davidson, FL
---
Treated Like a King
I am so happy with my mill, I have already delivered and sold an order of lumber. I was treated like "A KING" at the factory – by [my sales person] who answered my questions and had my order ready…I love my mill.
Thank you,
Jim Eisel, UT
---
Prompt and Courteous Service
I've had my sawmill just over a year and a half, and it has kept me busy custom sawing for other people. I'd like to thank you for the prompt and courteous service when I call for information or assistance. All of my customers have commented on the quality of the lumber.
Don Crusore, KY
---
1220 Saws "Clean Through" Massive Oak Log
As you can see, I get some real logs. This is a red oak board, sawed clean through by my 1220 mill. I have a 3 foot six inch hard maple up to mill next. Got to drill a well today, but I'd rather be sawing.
Jim Wilcox, WI
---
Best Mill on the Market
I want to thank all of you folks at TimberKing…You have done more than sell the Best Mill on the market, you have stood behind everything you said and more.
Bill Baer, OK
---
"Wonderful Job"
Your instructor did a wonderful job explaining the mill and took his time. Thanks to all of your people for a fine job in helping me decide which mill to buy.
Don Orth, IL
---
Every Stick Sawed on a
TimberKing
Every stick of wood is this log house — all the timbers, logs, sheathing and rafters — was cut on my TimberKing sawmill. It's a heck of a machine.
Raymond Burton, OH
---
Easy Set Up…Excellent Cuts
I just wanted to drop you a note to let you know [about]…my satisfaction with the 1220 …. I was able to set it up easily and it produced excellent quality cuts from the first time I used it. Having dealt with many companies over the years, I appreciate TimberKing's thorough process from sales to delivery.
Vincent Pombo, NJ
---
44 Foot Ridge Beam with 1220
Thought you might be interested in what my husband is doing with the Model 1220 mill we purchased from you. This picture shows a 16 inch square ridge pole 44 feet long. As you can probably guess, he loves [his mill].
Liz Whittier, AZ
---
Excellent Product…Excellent Service
Many thanks for always being so friendly…It is your excellent service along with your dedication to an excellent product that makes TimberKing such a joy to own.
Jim & Sally S., OH
---
Looks Forward to Many More Years with
TimberKing
I want to commend you on building not only very good products but also putting together a very excellent and professional staff…It is easy to speak to other people who are interested in your products because of the personal support that I and everyone else who own your products have received…I am looking forward to many more years of doing business with TimberKing.
Tom Schall, MO
---
Retired Military Man Starts Business with TimberKing 2000
When I retired from the US Military 10 years ago, I had a wish list: to live in the country, enjoy four seasons, work outdoors, have good health, and enjoy what I was doing. The Good Lord has provided!
Today, I run a complete wood material business, Maple Grove Mill. To make it possible, equipment became a priority. I did a lot of research and TimberKing rose to the top. You had a promotion, 'Go tree to trim with TimberKing.' We took your idea and added some twists. I bought TimberKing and Woodmaster equipment based on their features, warranty, and price.
I talked with Will Johnson, president of TimberKing quite a bit. He was very patient! He always sent me his best pricing. I got the 2000 mill with hydraulics, log turners, toe boards, and deck extensions. Everything was at better prices than other mills. There are two bigger model TimberKing mills but, for what we're doing, the 2000 is perfect.
Bob Manaugh,
Lexington, IN

---
Excellent Resale Value
Just a short note to let you know that due to some health problems, I had to sell my mill. I owned it just over 2 years and really enjoyed turning rough looking logs into beautiful boards…I made pretty good $$$$ too. Over all it was a great experience, great mill, great service and got a good price when I sold it.
Keep up the good work!!!!!
Kenny Piehl, IA
---
"Extremely Reliable and Durable"
Attached is a photo of me with one of my smaller logs on the mill. Its a piece of mesquite that started about 24″ round x 11′ long and weighed an estimated 3800lbs. The saw cut it with no problem and the same blade was used on two other smaller pieces. The biggest piece slabbed out so far was Pecan that measured 30″ in diameter and 14′ long. It yielded close to 400 bdft. As soon as it finishes drying it will become furniture…[One friend] has used the saw to cut over 100 – 6″ x 6″ and 8″ x 8″ cedar timbers, some 18′ in length, to build his barn and house from and [another friend] made several custom pieces of furniture with the wood he has cut…The saw has been extremely reliable and durable.
Mike Cook, TX
---
Loves to Brag about his
TimberKing
So far just about the only thing I like more than turning logs into lumber on my TimberKing bandsaw mill is to tell other folks about it. I can hardly get the mill warmed up when a neighbor will stroll by or a local contractor will stop on the roadside just to look at my mill and of course I invite them on in for a little bragging session, most fun I have had in a long time….have a good day..GOD BLESS AMERICA…
Bill Wirth, NY
---
I just wanted to take a moment to thank you. I just retired after a 26-year career in the US Air Force. With your help my wife and I turned my previous woodworking hobby into a very profitable full-time business. I have owned a TimberKing 1220 for three years now. Last year, we sawed 800 logs we received with help from several tree companies we partner with here in Phoenix. I build customer Southwestern furniture and also sell live edge slabs and dimensional stock to hundreds of customers. They have fully embraced our urban logging and milling operation. TimberKing has produced and amazingly accurate and bullet-proof sawmill. It has helped us exceed our income projections. Your customer service is excellent. You even know me by name when I call for…blades.
I cannot begin to tell you what it is like to wake up every day and love my job!
Todd & Terri Langford,
Phoenix, AZ