The Big 3
That's what we call TimberKing's Industry-Leading Heavy-Duty Welded Super-Structure
At TimberKing, we like to say we build tanks not toys. Some companies may go to great lengths to convince you that "less is more" when it comes to building mills…that less steel, more bolts, more bends and fewer welds make for a better machine. But in nearly 90 years of building sawmills we've learned to live by one simple rule: there's no substitute for welded steel. That's why every TimberKing mill is built around a massive Big 3 Super-Structure.
#1 — SOLID-WELDED 4-POST HEAD
Four massive welded posts support your saw head – true 4-Post design guarantees consistent alignment between blade and log deck. One-piece, solid-welded design: nothing over-complicated or over-engineered … no need to worry about vibration that plagues bolt-together cutting heads … no bent-metal parts to fatigue. Just the same massive, rugged set-up we've used for over 25 years.
#2 — SOLID-WELDED TWIN-BEAM LOG DECK
Whether you're a Ford® guy, a Chevy® guy or a Ram® guy, you'd never buy a work truck with a bolt-together frame. Your sawmill should be no different: after all, it's got to handle similar pay-loads. The log deck solid-welded from double-wall box-beam steel is the ONLY way to support the HUGE logs TimberKing mills are designed to cut. This eliminates the constant readjustment and retightening common with bolt-together designs…twin-wall box beam cross-members double the support and eliminate flex of single plate cross-members.
#3 — SOLID-WELDED BIG-BEAM POWER CORE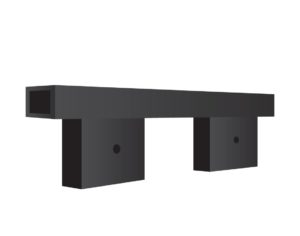 The core of any sawmill is the engine and the blade…it's where the action is – but it's also where tough conditions demand heavy construction. TimberKing's Big-Beam design meets these challenges head-on: one massive section of box-beam steel extends across the entire width of the mill…engine mounting plate is solid-welded to the top of the beam…laser-cut blade wheel plates are welded to the front. Altogether, it's a truly massive weldment designed to keep your mill cutting true today, tomorrow and far into the future.